About the collection
Return to Disability in the Modern World
"It's sad that so much of the activity of the 80s and 90s has disappeared. Thank goodness Alexander Street is doing this work; it is probably the best way to preserve a lot of this material." 
-    Mary Johnson, Editor of the Disability Rag/Ragged Edge
Nature and Scope
One person in seven experiences disability,* yet the story of this community and its contributions is largely absent from the scholarly record.  Disability in the Modern World: History of a Social Movement is a landmark online collection that fills the gap, with a comprehensive and international set of resources to enrich study in a wide range of disciplines from media studies to philosophy. 
At completion, Disability in the Modern World will include 150,000 pages of primary sources, supporting materials, and archives, along with 125 hours of video. The content is essential for teaching and research—not only in the growing disciplines of disability history and disability studies, but also in history, media, the arts, political science, education, and other areas where the contributions of the disability community are typically overlooked.
* World Bank, World Report on Disability, 2015, Washington, DC
Key Disciplines​
Independence, Education and Accessibility
Advocacy and Rights
Legislation and Politics
The Media
Arts, Sport, and Culture
Theory
Race, Class Sexuality, and Gender
War, Industry, and Technology
Subjects
Examples of topics covered in the collection: Employment, Job training, Government programs, Social activism and activists, Protests, Laws and legislation, Policy, Transportation, Patents, Wages, Sexuality, Veterans, Soldiers, Industry, Factories, Accessibility, Physical disabilities, Mental disabilities, Race, Intellectual disabilities, Gained disabilities, Arts, Deafness, Blindness, Identity, Pensions, Class, Employment opportunities, Rehabilitation, Welfare and public relief, Poverty, Civil rights, Education, Medical Model vs, Social Model, Unemployment, Athletics and more.
Advisory Board
Kim Nielsen
Professor of Disability Studies, History, and Women's & Gender Studies 
Since earning her Ph.D. in History from the University of Iowa in 1996, Kim Nielsen's scholarship has centered on historical debates about who is fit to participate in civic life; using gender, disability, and changing notions of competency as her tools of analysis. A Disability History of the United States, Nielsen's newest book, is the first analysis of disability throughout United States history and covers the period prior to European arrival through the present. Nielsen currently chairs the OAH Committee on Disability and Disability History, and was founding president of the Disability History Association. She recently arrived at the University of Toledo after fourteen years at the University of Wisconsin-Green Bay.
Michael Rembis
Director of the Center for Disability Studies; Associate Professor in the Department of History
Michael Rembis is the Director of the Center for Disability Studies and an Associate Professor in the Department of History at the University at Buffalo (SUNY). Rembis has authored or edited more than 60 books, articles, and book chapters. His research interests include the history of institutionalization, mad people's history, and the history of eugenics. Since completing a PhD in history, Rembis has worked with colleagues throughout the world to expand and solidify the fields of disability history and disability studies. He is a co-founder of the Disability Studies Initiative at the University of Arizona, where he helped to create undergraduate curricula in Disability Studies. He was a visiting scholar at the University of Notre Dame, where he participated in their Disability Studies Forum.
Catherine Kudlick
Professor, Department of History; Director, Paul K. Longmore Institute on Disability
After more than two decades at the University of California at Davis, Catherine Kudlick joined San Francisco State as Professor of History in Fall 2012 to assume directorship of the Paul K. Longmore Institute on Disability. Kudlick is fascinated by the places where bodies, disability, medicine, and gender come together. Her current research focuses on smallpox in 18th and 19th century France to understand how disability became part of ordinary rather than extraordinary experiences. Informed by her research, her teaching invites students to reflect upon disability as a valuable category of experience, much like other forms of human diversity. History of medicine, gender history, histories of disease and public health, all influence her approach just as she seeks to introduce fundamental questions about disability into these areas.
Victor Pineda
President of World ENABLED, Chancellor's Research Fellow/ Adjunct Professor at UC Berkeley
Victor Pineda is a leading global expert on disability rights, policy, planning and design and has worked closely with the U.S. Department of the Treasury, World Bank, United Nations, UNESCO, UNICEF, and cabinet level officials in the UAE, Qatar, Venezuela, and Serbia among others to develop policies and programs that include persons with disabilities as equal stakeholders in development. His research projects explore disability in the built environment through history, medical anthropology, policy, planning and regional development. He teaches courses on Urban Theory, Policy Evaluation, and Community Development.  He has advised international agencies such as the World Bank and United Nations, as well as state and federal governments in the development and implementation of programs and policies that include people with disabilities.  Pineda holds a Ph.D. from the Luskin School for Public Affairs at the University of California at Los Angeles and a Master's in City and Regional Planning, a B.A. in Political Economy, and a B.S. in Business Administration from the University of California at Berkeley.
Gregg Mozgala
Actor, Writer, and Artistic Director at The Apothetae Theatre Company
Gregg Mozgala is a critically acclaimed actor and playwright as well as the Artistic Director of The Apothetae, a theater company dedicated to the production of works that explore and illuminate the "Disabled Experience." For several years he has served as a mentor for The Kennedy Center's Playwright Discovery Program, an annual, national competition that invites middle and high school students to take a closer look at the world around them, examine how disability affects their lives and the lives of others, and express their views through the art of script writing. He has been profiled in the New York Times on several occasions, most notably for his groundbreaking work with choreographer Tamar Rogoff, which was also featured on CBS Sunday Morning and Good Morning America. Their experience is the subject of the documentary, Enter The Faun, which premiered at the Sarasota Film Festival.
Content Types
TEXT
Historic Periodicals
Brochures
Advertisements
Pamphlets
Memoirs/Diaries
Patents
Press Releases
Secondary Monographs
Graphs
Poetry
VIDEO
Documentaries
Art Films
Interviews
Chat Shows
Performances
Primary Sources
The Disability Rag/The Ragged Edge Periodical Archives – Available here for the first time is the complete digitized run of the The Disability Rag and its successor, The Ragged Edge. With its launch in 1980, The Disability Rag started a revolution—connecting isolated activists nationwide in what would become a growing, passionate community. At a time when the disabled had no control over their portrayal in non-disabled media, periodicals like The Disability Rag were the answer, fostering solidarity and community building among groups.  From its first issue, The Disability Rag provides a lens through which the entirety of the disability rights movement's history and challenges can be seen.
Remploy Ltd. Archives – Through a partnership with the National Archives of the United Kingdom, Disability in the Modern World includes archival records from Remploy Ltd., an organization in the U.K. that provides employment placement services for disabled people. Remploy was originally established under the terms of the Disabled Persons (Employment) Act 1944, to provide training and employment after World War II for injured and disabled ex-service personnel and miners.
Red Cross Records – Established in 1881, the American Red Cross has a long history of providing assistance and disaster relief. Records related to the disabled include Carry On: A Magazine on the Reconstruction of Disabled Soldiers and Sailors, published in 1918-1919 as a response to the influx of disabled veterans returning from World War I.  Essays, reports, and surveys explore the conditions at home to which disabled veterans returned and how governmental and charitable organizations responded to this growing population.
Sensitivity Statement and Takedown Policy
Materials contained on the Alexander Street platform include historical content that may contain offensive language, negative stereotypes or inaccurate representations. Alexander Street does not endorse the views expressed in such materials, but believes they should be made available in context to enable scholarly comparison, analysis and research.
In making material available online, Alexander Street and our content partners act in good faith. To the best of our knowledge, content contained within these collections has been cleared for publication by the appropriate rights holders and has not been placed under any restrictions for privacy, cultural or other sensitivities. If you have found material for which you believe you hold the copyright without proper attribution, which contravenes privacy laws, or which is a breach of the protocols determining accession provision for heritage materials which reflect indigenous history, culture, language or perspective, please contact us in writing at history@alexanderstreet.com. Please include with your query:
1. Your full name
2. Your contact information
3. URL to the content in question
4. The reason for your inquiry
Upon receipt of inquiries, the following steps will be undertaken:
1. Inquirer will receive confirmation of receipt.
2. Alexander Street will contact the holding source and/or any related copyright holder to notify of the inquiry.
3. Alexander Street will make all possible efforts to resolve the takedown request quickly and to the satisfaction of all parties involved. Possible outcomes include: Access to content remains unchanged on the Alexander Street platform; Access to content is modified on the Alexander Street platform; Access to the content is removed from the Alexander Street platform.
Alexander Street strives to provide the broadest possible online access to content where permissions have been granted by the known rights holders and/or the content holding institution. Permanent access restrictions will be considered only as an exceptional response.
Content Highlights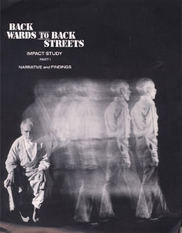 Back Wards to Back Streets
Enter the Faun
To Ride the Public's Buses: The Fight that Built a Movement