Browse Titles
- 2 results

See details
written by

Frances Ellen Watkins Harper, 1825-1911

(

1859

); edited by

William Still, 1821-1902
, in

The Underground Rail Road: A Record of Facts, Authentic Narratives, Letters, &c: Narrating the Hardships, Hair-breadth Escapes, and Death Struggles of the Slaves in Their Efforts for Freedom, edited by William Still. (Philadelphia, PA: Porter & Coates, 1872). p. 762
(

Philadelphia, PA

:

Porter & Coates

,

1872

)
,

1

page(s)
written by

Frances Ellen Watkins Harper, 1825-1911

(

1859

); edited by

William Still, 1821-1902
, in

The Underground Rail Road: A Record of Facts, Authentic Narratives, Letters, &c: Narrating the Hardships, Hair-breadth Escapes, and Death Struggles of the Slaves in Their Efforts for Freedom, edited by William Still. (Philadelphia, PA: Porter & Coates, 1872). p. 762
(

Philadelphia, PA

:

Porter & Coates

,

1872

)
,

1

page(s)
Collection
Women and Social Movements in the United States,1600-2000
Date Written / Recorded
1859
Field of Study
Women and Social Movements
Contributor
William Still, 1821-1902
Author / Creator
Frances Ellen Watkins Harper, 1825-1911
Date Published / Released
1872
Publisher
Porter & Coates
Person Discussed
John Brown, John Brown, 1800-1859
Topic / Theme
Health, Relationships, Sympathy, Husbands, Death, Social Reform and Political Activism, Abolition of Slavery
Copyright Message
Copyright © 2001, Alexander Street Press LLC.
×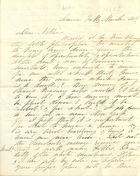 See details
Date Written / Recorded
1836
Field of Study
Letters and Diaries
Author / Creator
Benjamin Williams Chidlaw, 1811-1892
Date Published / Released
1961
Publisher
University of Minnesota Press
Topic / Theme
Catholicism, Immigration and emigration, General medical conditions, Religion, Domestic life, Health
Copyright Message
Copyright © 1961 by the University of Minnesota. All rights reserved.
×