2 results for your search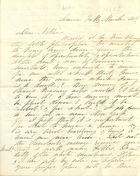 See details
Date Written / Recorded
1865
Field of Study
Letters and Diaries
Content Type
Diary/Memoir/Autobiography
Contributor
Beth G Crabtree, James W. Patton
Author / Creator
Catherine Ann Devereux Edmondston, 1823-1875
Date Published / Released
1979
Publisher
North Carolina. Division of Archives and History
Topic / Theme
Military retreats, Property loss, Surrenders, Gossip, International relations, Mules, Horses, Assassinations, Armed forces, Domestic life, Entertaining, Politics, Environment, Law, Robert E. Lee Surrenders at Appomattox Court House, VA, April 9, 1865, U.S. Civil War, 1861-1865, Abraham Lincoln, Assassination, Washington, DC, April 14, 1865
Copyright Message
Copyright © 2004, Alexander Street Press LLC.
Subject
Military retreats, Property loss, Surrenders, Gossip, International relations, Mules, Horses, Assassinations, Armed forces, Domestic life, Entertaining, Politics, Environment, Law
×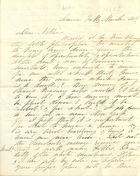 See details
Date Written / Recorded
1882
Field of Study
Letters and Diaries
Author / Creator
Sarah Roberts, fl. 1858
Date Published / Released
1961
Publisher
University of Minnesota Press
Topic / Theme
Assassinations, Career choice, Heads of state, Immigration and emigration, Luggage, Prices, Property, Law, Economics, Politics, Domestic life, Entertaining
Copyright Message
Copyright © 1961 by the University of Minnesota. All rights reserved.
Subject
Assassinations, Career choice, Heads of state, Immigration and emigration, Luggage, Prices, Property, Law, Economics, Politics, Domestic life, Entertaining
×